Four-Way Hand Crimper JRD-W2D(HDT-48-00) 12-26 AWG

The crimping specification is designed according to M22520/1-01 and AS22520/1-01. Crimp range:12-26 AWG
Suitable for crimping round contacts of MIL standard, Harting, Wain, TE connectors.
Suitable for S-UH2(AF8) and S-HDT(HDT-48-00) positioning screw, positioner axially adjustable.
A brand new design. The wavy handle is more comfortable to use.
The crimping tool adopts curve propulsion mechanism which assures the same accurate crimp every time.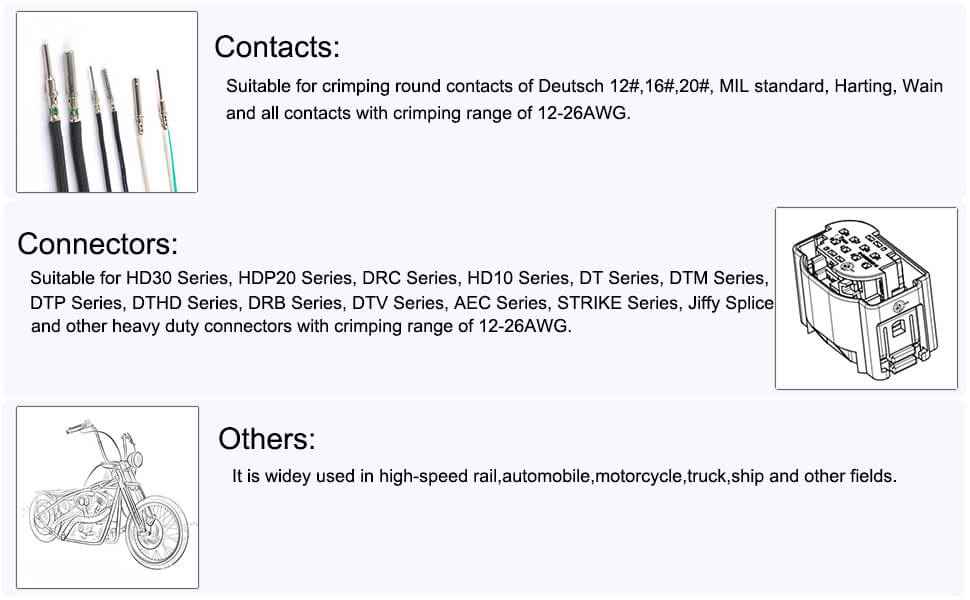 Features
The JRD-W2D is combined with AF8 and HDT-48-00. Its crimping specification is based on M22520/1-01. And the positioner is designed according to HDT-48-00. It has limitless application within the specified wire range of 12-26 AWG.
The YJQ-W2D adopt new design. Wavy handle is more difficult to fall off when used, which brings more comfortable use feeling.
The material is mould steel,good durability,good anti-deformation,good appearance and anti-rust.