JRready ST1024 TOOL KIT:
YJQ-W2A / AF8 M22520/1-01 Crimping Tool
&G125 / M22520/3-1 GO-NOGO Gage
&TH1A / M22520/1-02 Turret Head
&TH163 / M22520/1-04 Turret Head
&UH2-5 / M22520/1-05 Adjustable Positioner
[CRIMPER CRIMPING RANGE]:12-26 AWG(0.128-3.33mm²)

[CRIMPER CRIMP STYLE]:4-indent 8-impression

[APPLICATION]:Suitable for crimping round contacts of MIL standard connector

[PACKAGE INCLUDE]:YJQ-W2A/AF8 crimp tool & TH1A turret Head & TH163 turret head & UH2-5 adjustable positioner&G125 GO-NOGO gauge

[PLEASE NOTE]: This tool is designed according to MIL-SPEC and manufactured by JRready. NOT IN QPL & NOT DMC TOOLS.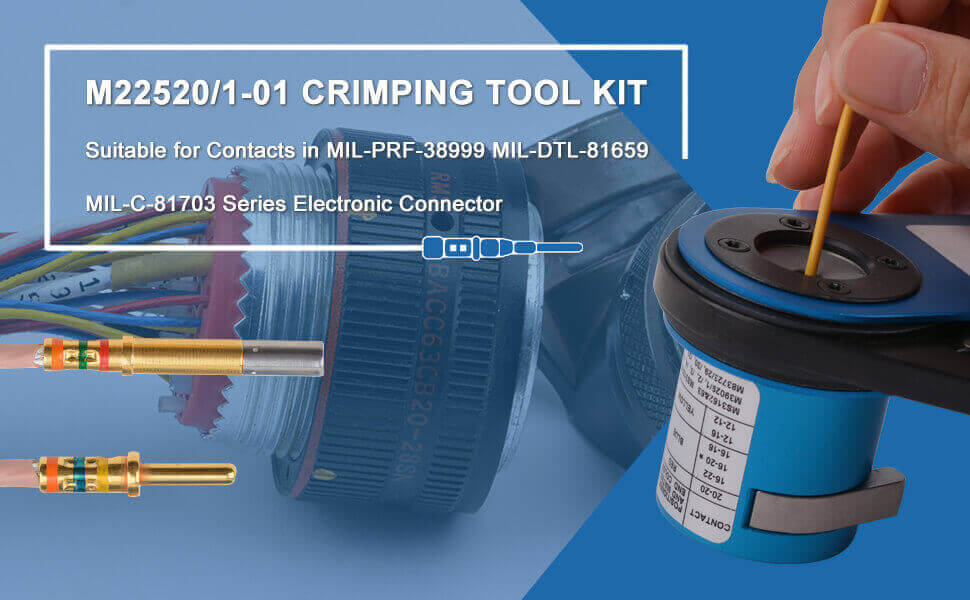 Turret Head TH1A & TH163
Weight: 0.25 lb
Adjustable turret crimper positioner
Gives a standardized and accurate crimp every time
A dataplate affixed to turret head lists specific contact part numbers, the corresponding position color code, and suggested selector depth settings for the wire size being used
Can be adjusted to match the diameter of the connectors and the wires desired
Universal Adjustable Positioner UH2-5
Weight: 0.15 lb
Can be easily mated to the crimping tool frame
Adapt the tool frame to specific military or proprietary contact combination
The screw can be secured with the locknut provided
The selected contact is inserted through the entry hole on the opposite side of the tool frame from the head
The height adjusting screw is rotated until the contact is in the proper position for crimping
Go-Nogo Gage G125
GO: 0.039 inch
NO-GO: 0.044 inch
Set the tool selector knob to position4, and check indenter closure with the gage
Periodic gaging is recommended to insure accurate calibration.
Selector Knob Adjustment
The crimper has 8 selector numbers,NO.1-8 / AWG 26-12(3.33-0.128 mm²)
Selector Knob adjustment is very easy
Remove the spring clip first,lift selector knob to rotate the dail,chose the right selector number
Go-Nogo Gauge Instructions
Operate the tool to the fully closed working position. Set the crimp tool to the correct selector number
If the "GO" gage end (Green) can pass freely, but the NO-GO end (Red) can not pass completely, it means the tool is still qualified
If the "GO" gage end (Green) can not pass, but the NO-GO end (Red) can pass completely, it means the tool is not qualified