JRready Crimper Tool Kit ST2119 : 37 K series positioners+YJQ-W1A (AFM8) four-indent crimper+SK2/2 Universal Positioner+G125 GO-NOGO Gage for 20-32 AWG
Package includes: YJQ-W1A(AFM8)+K1S+K151+K3+K13-1+K40+K41+K42+K43+K287+K286+K338+K340+K341+K339+K342+K343+K330-2+K331-2+K332-2+K212+K267-1+K261-1+K262-1+K269-1+K373-1+K372-1+K404+K406+K496+K323+K532-1+K473+K709+K74S+K75S-1+K60S+G125+SK2/2

Match Tools: YJQ-W1A(AFM8) Hand Crimp Tool,YJQ-W1A(manual)&YJQ-W1Q(pneumatic); Wire Crimp Range: 20-32 AWG

Designed for most of the miniature and sub-miniature connector types that are so widely used in electronic systems; Suitable for crimping round contacts of MIL standard, Harting, Wain, TE connectors.

Suitable for Connector: MIL-PRF-38999 SERIES, MIL-C-81511 SERIES, MIL-DTL-26482 SERIES, MIL-STD-1760, MIL-DTL-81703 SERIES, MIL-DTL-28804, MIL-DTL-24308, MIL-DTL-83733, MIL-DTL-81659, AS81714, MIL-DTL-83527,etc.

Suitable for Contact: M39029 SERIES, MS24254 SERIES, MS24255 SERIES, MS18134, MS18136, M83723, MS27490 SERIES, MS27491 SERIES, MS27492 SERIES, MS27493 SERIES; MS27494 SERIES, MS27655 SERIES,M24308 SERIES, etc.
JST1515 Crimping Tool Kit :JRD-AF8(M22520/1-01) Crimper 12-26 AWG,TH163+TH4+TH1A Turret Positioner& UH2-5 Universal Positioner&GO-NO-GO GAGE G125 for electrical connector&contatcs
The kit included: JRD-AF8 (Hand Crimp Tool) & TH163, TH4, TH1A(Turret Head) & UH2-5 (Positioner) & G125 (Gage).
JRD-AF8 is compatible with the M22520/1-01 which is widely used for the crimping of wires and contacts in electronic connectors.
TH1A is designed referred to MIL-C-22520/1-02.There is no need to change the positioning device for crimping different MIL standard contacts, just rotate the positioning core.
TH163 is designed referred to M22520/1-04 and suitable for M38999 Series1,2,3 connectors.
TH4 is qualified to MIL-DTL-22520/1-03 and can be adjusted to match the diameter of the connectors and the wires desired. TH4 for 12, 16, 20 size contacts of MIL Standard connectors MIL-DTL-28748
UH2-5 is designed according to M22520/1-05 and suitable for the positioning of a small part of round contacts of MIL standard.
G125 is designed according to M22520/3-1, GO: 0.039 inch; NO-GO: 0.044 inch.
ST1049: YJQ-W7A(MH860) M22520/7-01 Crimper+86 Series positioner+G145(M22520/3-03) Maintenance Kit For Electrical Connectors and Wiring Systems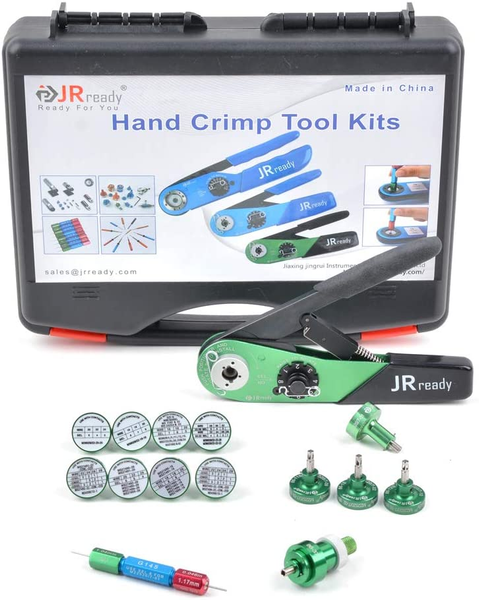 Tool list :

 

YJQ-W7A(MH860) tool frame, 86-1S+86-2+86-3+86-4+86-5+86-6+86-7+86-11S+86-12S+86-19+86-20+86-21 Positioners & Adjustable Positioner 86-37 

and 

Inspection Gage  G145(M22520/3-3) 

The YJQ-W7A/M22520/7-01/MH860 accepts the entire middle wire range of 16 through 28 AWG

Connector: MIL-PRF-38999 SERIES, MIL-DTL-26482 series, MIL-DTL-26500, MIL-DTL-24308,MIL-C-38300, AS50151 series, MIL-C-81703 SERIES, MIL-DTL-83723 SERIES, MIL-C-81511 series, MIL-DTL-83733, MIL-STD-1549 ,etc.

Thanks to the cycle controlled precision ratchet,it assures the consistency of impression and the crimping quality of wires and contacts
ST5142 Removal and Installing Tool Kit:DRK12B+DRK16B+DRK20B+DAK12B+DAK16B+DAK20B Removal and Installing Tool Kit for MIL-C-81969 series and some of NON-MIL round contacts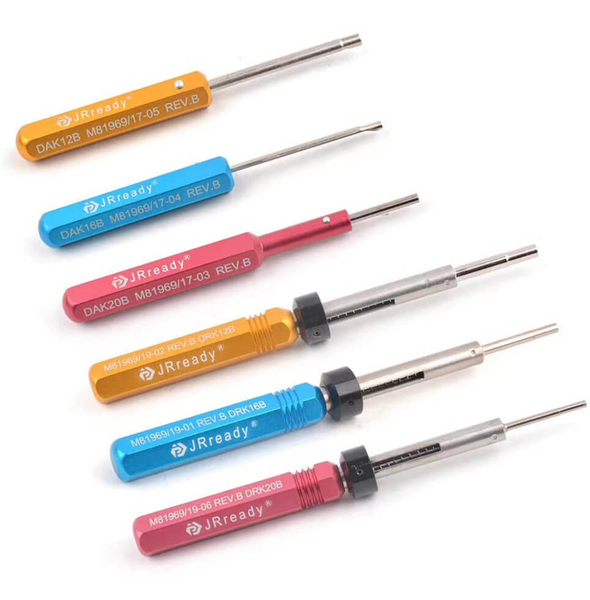 DRK12B Removal Tool designed according to MIL-C-81969/19-02 REV.B

DRK16B Removal Tool designed according to M81969/19-01 REV.8 ;

DRK20B Removal Tool designed according to MIL-C-81969/19-06 REV.B;

DAK12B Installing Tool designed according to MIL-C-81969/17-05 REV.B

DAK16B Installing Tool designed according to MIL-C-81969/17-04 REV.8

DAK20B Installing Tool designed according to MIL-C-81969/17-03 REV.B;

Applied to remove or install MIL series and some of NON-MIL round contacts without any damages to the electric connectors;

Removal Tool: The brace pipe has an ejector pin to facilitate the removal of contacts ; Installing Tool: A small slot on installing rod ensures enough tensile force to install contact into electronic connectors easily;

Small size, convenient to carry,good choice for outdoor using;