JST1515 Crimping Tool Kit :JRD-AF8(M22520/1-01) Crimper 12-26 AWG,TH163+TH4+TH1A Turret Positioner& UH2-5 Universal Positioner&GO-NO-GO GAGUE G125 for electrical connector&contatcs
Feature:
The kit included: JRD-AF8(Hand Crimp Tool) & TH163, TH4, TH1A (Turret Head) & UH2-5 (Positioner) & G125 (Go-nogo Gage).
JRD-AF8 is compatible with the M22520/1-01 which is widely used for the crimping of wires and contacts in electronic connectors.
TH1A is designed referred to MIL-C-22520/1-02.There is no need to change the positioning device for crimping different MIL standard contacts, just rotate the positioning core.
TH163 is designed referred to M22520/1-04 and suitable for M38999 Series1,2,3 connectors.
TH4 is qualified to MIL-DTL-22520/1-03 and can be adjusted to match the diameter of the connectors and the wires desired. TH4 M22520/1-03 for 12, 16, 20 size contacts of MIL Standard connectors MIL-DTL-28748
UH2-5 is designed according to MIL-SPEC and suitable for the positioning of a small part of round contacts of MIL standard.
G125 is designed according to M22520/3-1,GO: 0.039 inch; NO-GO: 0.044 inch.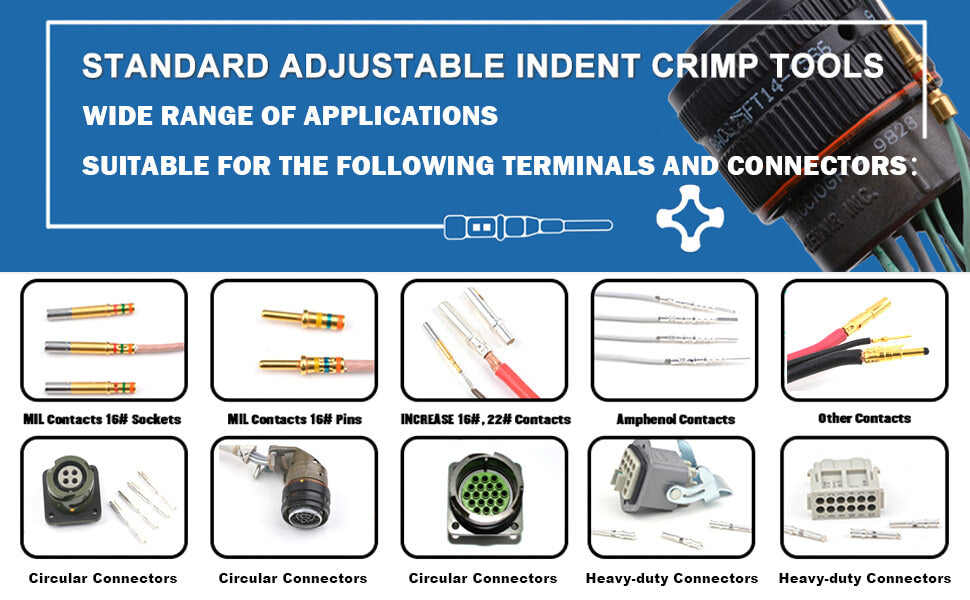 TH1A

TH4

TH163
UH2-5

G125

Adapted crimping tool
YJQ-W2A&JRD-FT8&JRD-AF8
YJQ-W2A&JRD-FT8&JRD-AF8

YJQ-W2A&JRD-FT8&JRD-AF8

YJQ-W2A&JRD-FT8&JRD-AF8

YJQ-W1A&YJQ-W2A&JRD-AF8

Standard

M22520/1-02

M22520/1-03

M22520/1-04

M22520/1-05

M22520/3-01

Adaptation terminal

MS3162&63, MS3192&93, MS18134&36, MS24254&55, MS90453&54

MIL-DTL-28748

M39029/34-273, M39029/35-276, M39029/34-272, M39029/35-275, M39029/34-271, M39029/35-274, M39029/36-278, M39029/37-280, M39029/36-277, M39029/37-279

MS27655, MS27490&91

&92&93&94

Universal in the crimp range
M22520/3-1