30 USD SPECIAL DISCOUNT FOR BLACK FRIDAY
DISCOUNT CODE: YJGMQPPKVSRR
FROM 24th, NOV. to 30th, NOV.
Enter the code at checkout.
FREE SHIPPING.
Free shipping to those countries /areas:
Australia, Austria, Belgium, Brazil, Bulgaria, Canada, Czechia, Denmark, Finland, France, Germany, Greece, Hong Kong SAR, Hungary, Iceland, Indonesia, Italy, Japan, Latvia, Lithuania, Luxembourg, Malaysia, Mexico, Netherlands, New Zealand, North Macedonia, Norway, Poland, Portugal, Singapore, Slovenia, South Korea, Spain, Sweden, Switzerland, Taiwan, Thailand, United States, United Kingdom, Vietnam
☆[Value Kit]:6 types of connectors and wedgelocks ranging from 2 to 12 cavities,16# pin/socket 14-16 AWG,seal plug,contact removal tool,DRK-RT1 pick removal tool,G454 go-nogo gauge, JRD-HDT-48 crimper

☆[DT Series Connectors]:Those connectors are made of PA66 nylon material,durable and waterpoof,convenient to connect and disconnect,suitable for long time use.The strong stability allows them to be widely used in car,motorcycle,truck,boats etc

☆[16# Contacts]:The terminals have strong stability and conductivity,easy to crimping with wire and installing into connector

☆[Professional Crimper]:JRD-HDT-48 is equivalent to HDT-48-00 Crimper,suitable for crimping 12#, 16#, 20# round contacts;Wire Crimp Range: 12-22AWG (0.35-3.33mm²)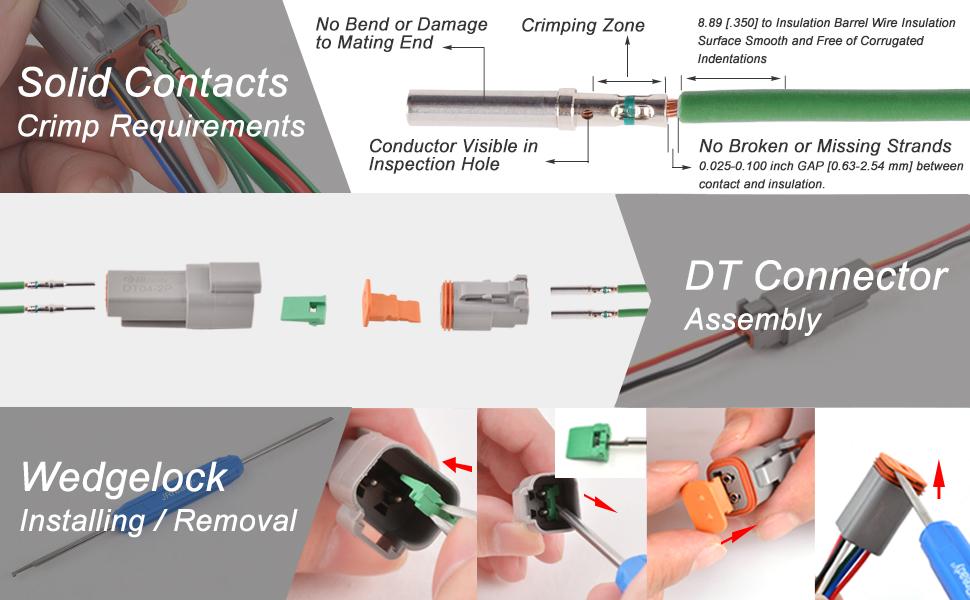 JRREADY DT Series Connector Set Connector/Terminal/Seal Plug
ANTI-OXIDATION
WATER AND DUST PROOF
AGING RESISTANCE
EASY TO CONNECT AND DISCONNECT
DT housings are available in 2, 3, 4, 6, 8, and 12 pin counts and use size 16 contacts, each with 13-amp continuous capacity. The housings feature an integrated latch for mating.
12 pcs DT04-2P-E004 (connector)    
12 pcs DT06-2S-E004 (connector)
12 pcs W2P (wedge)    
12 pcs W2S (wedge)
9 pcs DT04-3P-E004 (connector)    
9 pcs DT06-3S-E004 (connector)
9 pcs W3P (wedge)    
9 pcs W3S (wedge)
9 pcs DT04-4P-E004 (connector)    
9 pcs DT06-4S-E004 (connector)
9 pcs W4P (wedge)   
9 pcs W4S-ZZ (wedge)
6 pcs DT04-6P-E004 (connector)    
6 pcs DT06-6S-E004 (connector)
6 pcs W6P (wedge)     
6 pcs W6S (wedge)
2 pcs DT04-08PB (connector)    
2 pcs DT06-08SB (connector)
2 pcs W8P (wedge)     
2 pcs W8S (wedge)
2 pcs DT04-12PB (connector)    
2 pcs DT06-12SB (connector)
2 pcs W12P (wedge)    
2 pcs W12S (wedge)
168 pcs 0460-215-16141 (14-16 AWG Solid Pins)
168 pcs 0462-209-16141 (14-16 AWG Solid Sockets)
20 pcs 114017 (Seal plug)
1 pc 0411-291-1405 Contact Removal Tool (14 AWG)
1 pc 0411-310-1605 Contact Removal Tool (16 AWG)
1 pc DRK-RT1 Pick Removal Tool
1 pc G454 Go-NoGo Gauge
1 pc JRD-48-00 (HDT-48-00) Crimper