JRready ACT-M202 Small Size HDT-48-00 DT Crimper+G454 Go-nogo Gage
ACT-M202 CRIMP TOOL
【Technology】: Specially designed indenters which ensure pull-out force and also reduce contact resistanceSuitable for One-hand Operation
【Contact information】 Size 12,16,20 ,Numbers Beginning With 0460 (Pin) and 0462 (Socket) Solid Contacts.
【Wavy handle design】Increase friction to prevent the sheath from falling off.
【Wire Range】:12-22AWG(0.35-4mm²)
【Operation】: Suitable for hand-operated operation, light and convenient, easy to carry, outdoor maintenance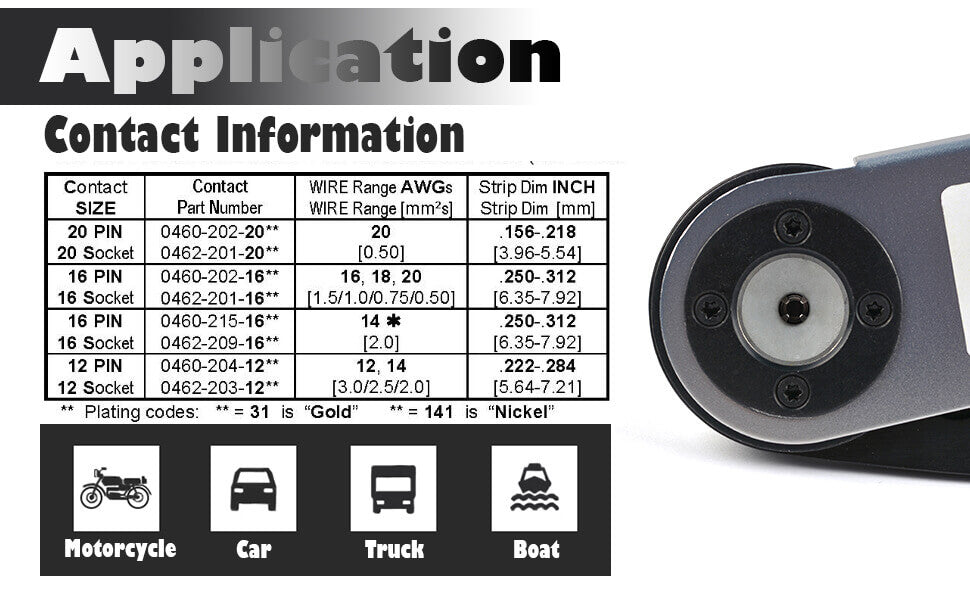 ACT-M202 is widely used for solid contacts (12#,16#,20#)which have a copper alloy body with nickel plating and a radial crimp type and work with DT, DTM & DTP Series sealed connectors.
These connectors are rugged quality and environmentally sealed connectors that are designed for cable to cable applications within the automotive industry.
CRIMPING INSTRUCTIONS
1. Insert the contact and prepare the wire through the indenter from the opposite side
2. Squeeze the handles together until ratchet releases. Then the handle will return to its open position automatically
G454 GO-NOGO GAGE

Selector No. (mm²/AWG) Intender Working Diameter mm/INCH

3.0/12# 0.049/1.24 (GO) --0.054/1.37 (NO GO)
2.5/14# 0.045/1.14 (GO) --0.050/1.27 (NO GO)
2.0 0.041/1.04 (GO) --0.046/1.17 (NO GO)
1.5 0.037/0.94 (GO) --0.042/1.07 (NO GO)
1.0/16# 0.033/0.838 (GO) --0.0385/0.978 (NO GO)
0.75/18# 0.030/0.76 (GO) --0.035/0.89 (NO GO)
0.50/20# 0.026/0.66 (GO) --0.031/0.79 (NO GO)
0.35/22# 0.022/0.56 (GO) --0.027/0.69 (NO GO)