50 USD SPECIAL DISCOUNT FOR BLACK FRIDAY
FROM 24th, NOV. to 30th, NOV.
Discount will be applied automatically at checkout.
JRready Crimp Kit ST2119-AS2 : NEW-AS2 (AFM8 615717 M22520/2-01) Indent Crimper & 36 K series Positioners & SK2/2 Universal Positioner+G125 Go-nogo Gage for 20-32 AWG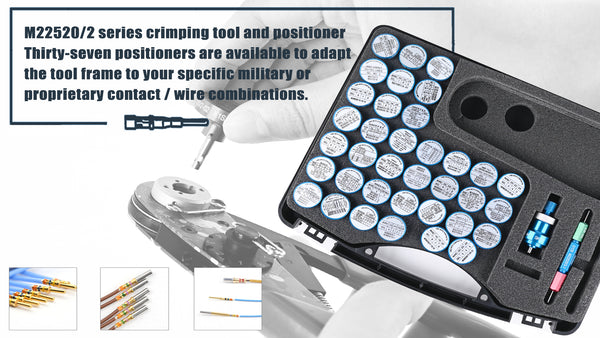 [Value Kit]

: Package includes NEW-AS2 (AFM8)+K1S+K151+K3+K13-1+K40+K41+K42+K43+K287+K286+K338+K340+K341+K339+K342+K343+K330-2+K331-2+K332-2+K212+K267-1+K261-1+K262-1+K269-1+K373-1+K372-1+K404+K406+K496+K323+K532-1+K473+K709+K74S+K75S-1+K60S+SK2/2+G125

[Suitable Connectors]

: MIL-PRF-38999 SERIES, MIL-C-81511 SERIES, MIL-DTL-26482 SERIES, MIL-STD-1760, MIL-DTL-81703 SERIES, MIL-DTL-28804, MIL-DTL-24308, MIL-DTL-83733, MIL-DTL-81659, AS81714, MIL-DTL-83527,etc.
[Suitable Contacts]: M39029 SERIES, MS24254 SERIES, MS24255 SERIES, MS18134, MS18136, M83723, MS27490 SERIES, MS27491 SERIES, MS27492 SERIES, MS27493 SERIES; MS27494 SERIES, MS27655 SERIES,M24308 SERIES, etc.
NEW-AS2

 

Aviation Crimper Miniature Adjustable Crimp Tool for Cable Assembly 20-32AWG
[NEW DESIGN NEW APPEARANCE] Personalized & Unique Colorful Camouflage Appearance with firm construction which makes work more interesting; Suitable for young people and DIY users

[SMALL SIZE & LIGHTWEIGHT] Small Size (6.27in * 1.93in) & Lightweight (225g / 0.5lb) for one-hand operation and easy carrying or outdoor use

[4-WAY 8-IMPRESSION CRIMPING] Gives a Mil-Standard 8 impression crimp, which assures maximum tensile strength

[CRIMP WIRE RANGE] Meets the need for a miniature tool accommodating wire sizes 20 through 32 AWG(0.52-0.032mm²)

[PROFESSIONAL CRIMPING TOOL] Designed according to MIL-C-22520/2-01;The cycle controlled precision ratchet assures consistently accurate crimps every time

[APPLICATION] Designed for most of the miniature and sub-miniature connector types that are so widely used in electronic systems; Suitable for crimping round contacts of MIL standard, Harting, Wain, TE connectors