50 USD AUTOMATICAL DISCOUNT
The amount will reduce automatically at checkout.
From 2022-08-13 to 2022-08-31.
YJQ-W1Q M22520 Pneumatic Crimp Tool afm8 for The Crimping of Round Contacts in MIL or Non-MIL Connectors Wire Crimp Range 20-32AWG
ST4010 Kit consists of YJQ-W1Q (Pneumatic Crimp Tool), SK2/2 (Universal Positioner), BM-2 (Bench Mount), PC-SUITE1 ST;

Can complete the positioning and crimping of a variety of cold pressed contacts;

The YJQ-W1Q four-indent crimp tool is used for high quality & high requirement crimping;

Wire Crimp Range: 20AWG (0.52mm2)- 32AWG (0.032mm2);

Crimped Style: Four-indent Eight-impression

Model of hand crimp tool:

 YJQ-W1A
YJQ-W1Q is designed according to M22520/2-01 and it is widely used for the crimping of wires and contacts in both military and proprietary programs.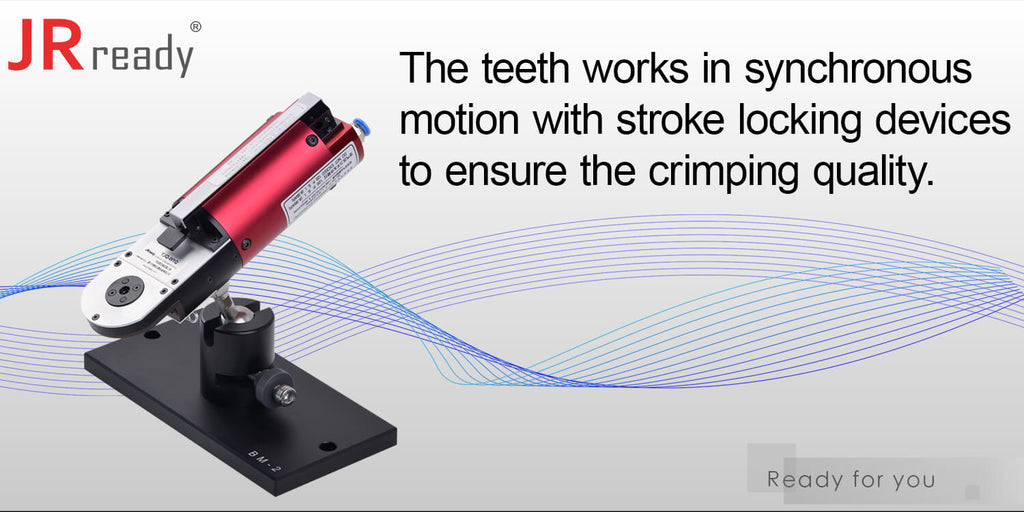 FEATURES:
● Productivity (It can crimp 30-40 contacts per minute,High production)
● Material of Mould Steel (Good Durability & Good Anti-deformation & Good appearance & Anti-rust)
● Four-indent Crimp Tool (Crimp tension is 1.3 times that of the hexagonal crimp, more stable & more reliable)
● 8 Selector Numbers(Adjustable crimping ranges in different selector number, more convenient for wider applications)

SPECIFICATIONS:
● AWG: 20-32AWG (0.52-0.032mm²)
● Thru-Hole Diameter (mm): Φ3.60
● Air Supply & Working Air Pressure (Bar): 5.5-8.3
● Dimensions: 218mm
● Weight:1061g/2.34 lb

PACKAGE INCLUDED:
1 × Pneumatic Crimping Tool YJQ-W1Q
1 × SK2-2 Positioner
1 × BM-2 Adjustable Bench Mount
1 × PC-SUITE1 Air Control System(foot value,regulating value,air pipes)
Youtube Related Video:
How to install the JRready YJQ-W2Q WA27F Pneumatic Crimp Tool Kit?
https://www.youtube.com/watch?v=EcXlYHHjNrM
How to Switch Hand & Foot Control Mode of Pneumatic Crimp Tool?
https://www.youtube.com/watch?v=VnhCcaBvcUE
HOW TO CRIMP & TEST DEUTSCH SOLID CONTACTS--USING YJQ-W2DTQ PNEUMATIC DEUTSCH CRIMPER
https://www.youtube.com/watch?v=Gl8yFdOif7s