Regular price
Sale price
$29.99 USD
Unit price
per
Sale
Sold out
Include: DRK-T210250+DRK-T220290+DRK-T270320+DRK-T275320+DRK-T180250
    [DRK-T210250] ID: 0.063 inch, OD: 0.075 inch, Compatible with AMPHENOL QXRT20, AMP 318831-1, MOLEX 11030002, Engineer SS-31;
Applicable Model: AMPHENOL Ecomate RM/RSSM/Aquarius RTOW Series, AMP .062" Commercial Series Male and Female Contacts, MOLEX Standard .062" Series Male and Female Contacts, 4.5mm pitch Odamiya Head Male and Female Contacts, JST ML&EL4.5 Series Male and Female Contacts , Molex 3.68mm 5500 5600 Series Male and Female Contacts
    [DRK-T220290] ID: 0.066 inch, OD: 0.087 inch, Compatible with 1-305183-1;
Applicable Model: AMP 2.13(.084) Pins 5.08mm Pitch Commercial MATE-N-LOK Connectors Male Contacts, MOLEX 8980 Series Male Contacts
    [DRK-T270320] ID: 0.081 inch, OD: 0.096 inch, Compatible with MOLEX 11-01-0168, AMPHENOL QXRT16, SOURIAU RX2025GE1, SOURIAU RX16D11D1;
Applicable Model: AMPHENOL Ecomate RM/RSSM/AquariusRT series, SOURIAU TRIM TRIO SMS SEREIS terminal, MOLEX 8980 series female terminal (DRK-T220290 for male terminal)

    [DRK-T275320] ID: 0.0825 inch, OD: 0.096 inch, Compatible with TE 1804030-1, TE 318851-1, MOLEX 11-01-0168, Japanese engineer SS-34, TE 1-305183-2
    [DRK-T275320] Applicable Model: AMP 2.13(.084) Pins Commercial MATE-N-LOK Female Contacts, AMP 6.35 Universal MATE-N-LOK Male Female Contacts, MOLEX 6.35 MLX SERIES (42021 42022) Male and Female Contacts
    Please note: DRK-T180250 can be used for a variety of 1.8mm connector terminals. When using it, please pay attention to the fitting with the outer diameter of the terminal (refer to the auxiliary drawing for judgment). If you have any questions, please contact us at the first time.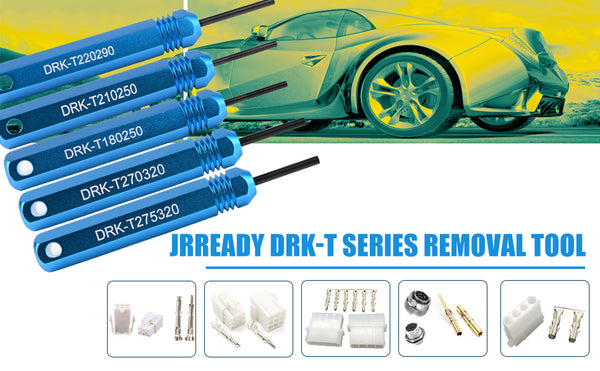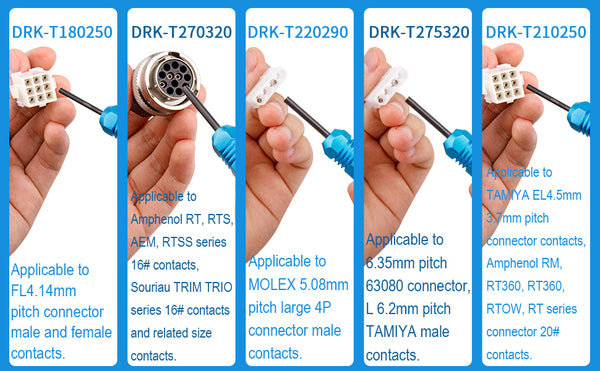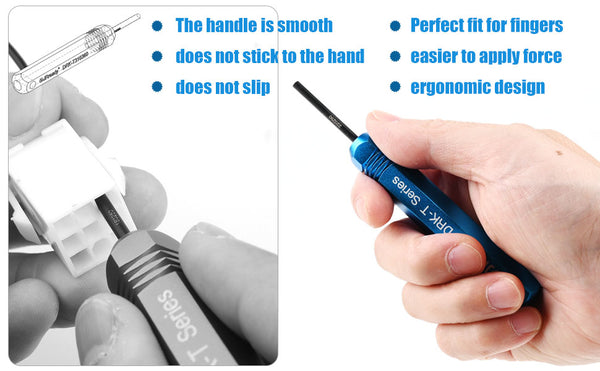 Other Extraction Tools: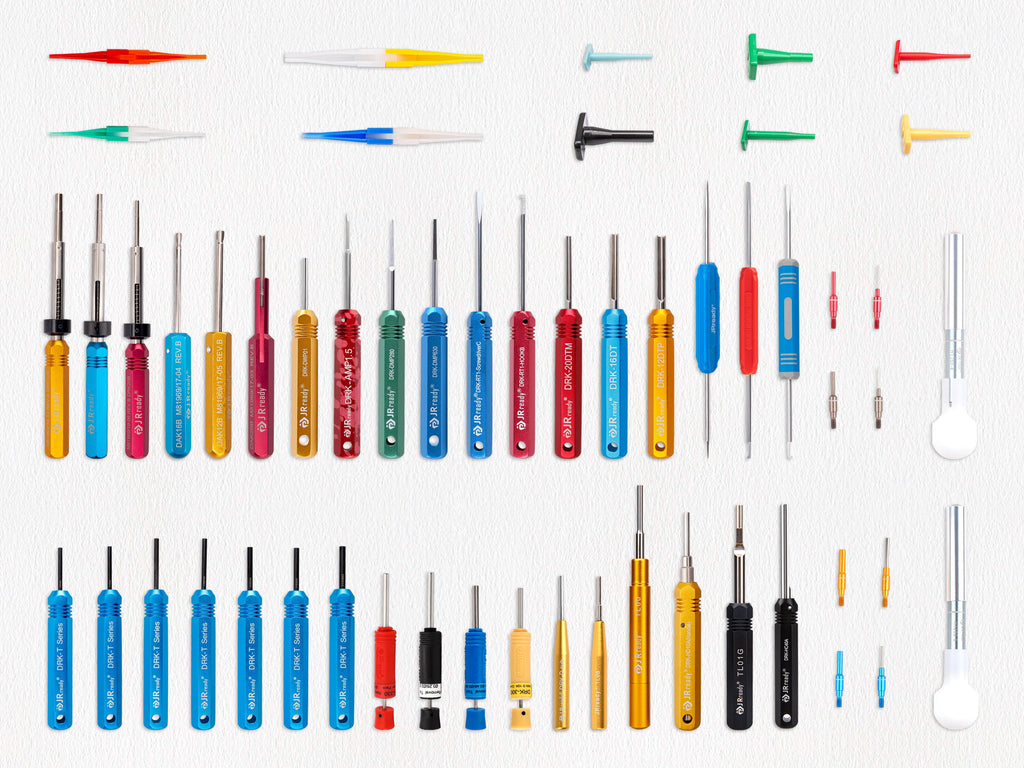 Share
View full details