FREE SHIPPING TO THE U.S.
ST6146 Connector Tools Kit List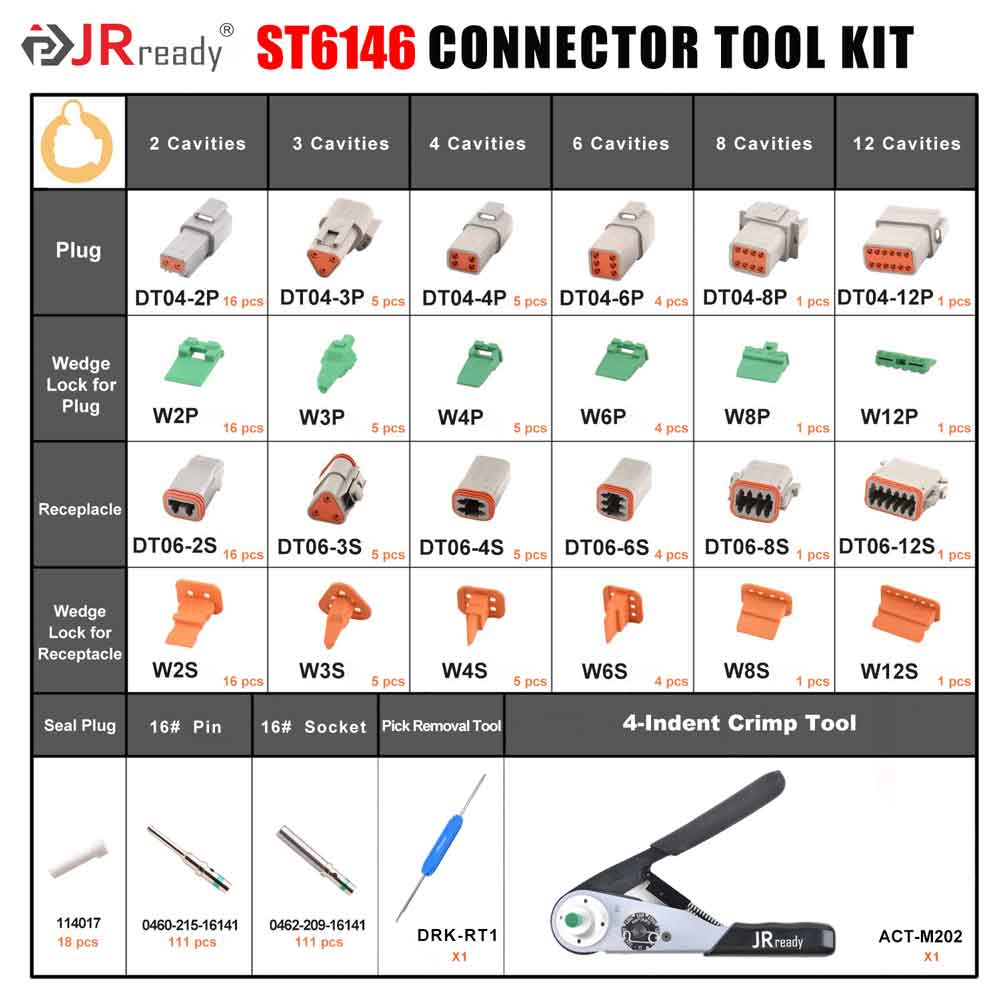 16 pcs DT04-2P (connector)
16 pcs DT06-2S (connector)
5 pcs DT04-3P (connector)
5 pcs DT06-3S (connector)
5 pcs DT04-4P (connector)
5 pcs DT06-4S (connector)
4 pcs DT04-6P (connector)
4 pcs DT06-6S (connector)
1 pcs DT04-8P (connector)
1 pcs DT06-8S (connector)
1 pcs DT04-12P (connector)
1 pcs DT06-12S (connector)
111 pcs 0460-215-16141 (Solid Pins)
111 pcs 0462-209-16141 (Solid Sockets)
18 pcs 114017 (Seal plug)
1 pcs DRK-RT1 Pick Removal Tool
1 pcs ACT-M202 Crimper

Good Quality Connectors & Solid Contacts
[DT Series Connectors]:Those connectors are made of PA66 nylon material,durable and waterpoof,convenient to connect and disconnect,suitable for long time use.The strong stability allows them to be widely used in car,motorcycle,truck,boats etc

[16# Contacts]:The terminals have strong stability and conductivity,easy to crimping with wire and installing into connector

[Professional Crimper]:Crimper ACT-M202 8 impression crimping,8 position selector knob allows you to control the crimp depth with ease and smooth precision ratchet ensures the same accurate crimps every time,wire size 12-22AWG

[Handle Wave Design]:Special wave is ergonomically designed and makes not easy to fall off, rubber cushion grip more comfortable more durable and longer service life

[Product Guarantee]:100% customer satisfaction is the pursuit of JRready.Any product defects and customer dissatisfaction,JRready promise to return a full refund of purchase price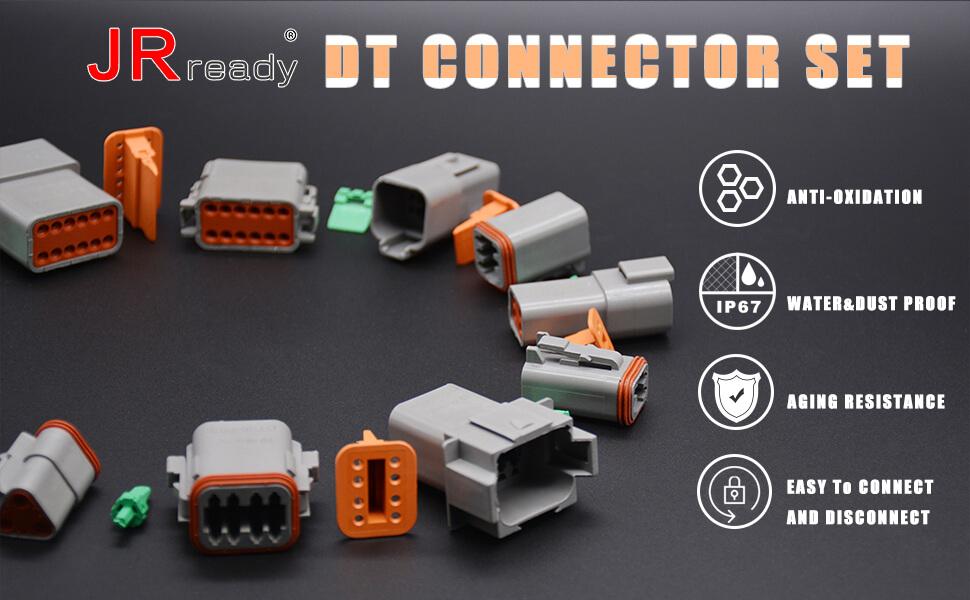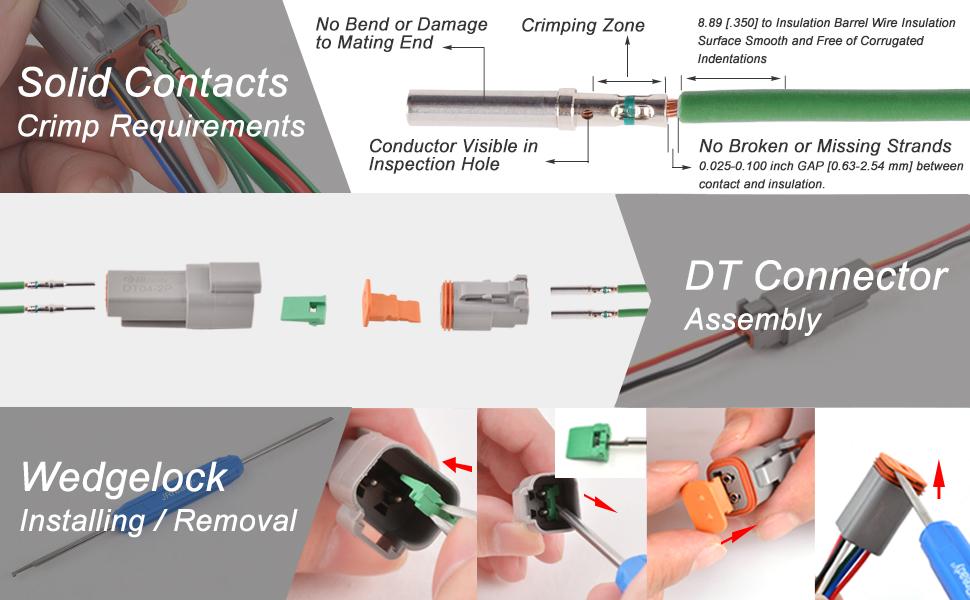 Professional Precision Crimp Tool
【Technology】

 

Specially designed indenters which ensure pull-out force and also reduce contact resistance

【Contact information】

 

Size 12,16,20, Numbers Beginning With 0460 (Pin) and 0462 (Socket) Solid Contacts.
【Wavy handle design】Increase friction to prevent the sheath from falling off.

【Wire Range】

12-22AWG(0.35-4mm²)
【Operation】Suitable for hand-operated operation, light and convenient, easy to carry, outdoor maintenance
Applications
ACT-M202  is specially designed for crimping 12#, 16#,20# solid contacts of DT, DTM & DTP Series sealed connectors which are with rugged quality and environmentally sealed, designed for cable to cable applications within the automotive industry.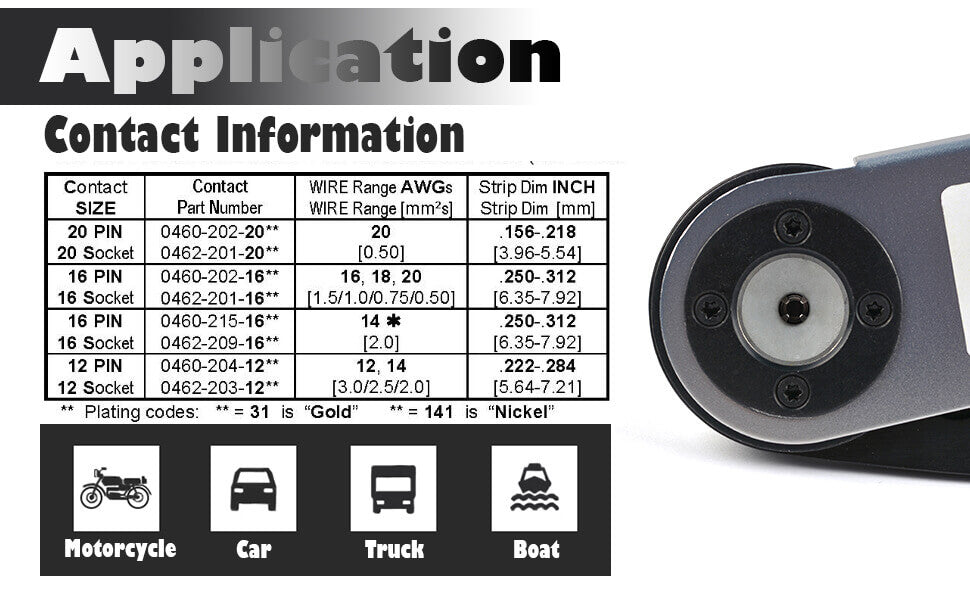 4-way 8-impression crimping
The cycle controlled precision ratchet assures the consistency of impression and the crimping quality of wires and contacts.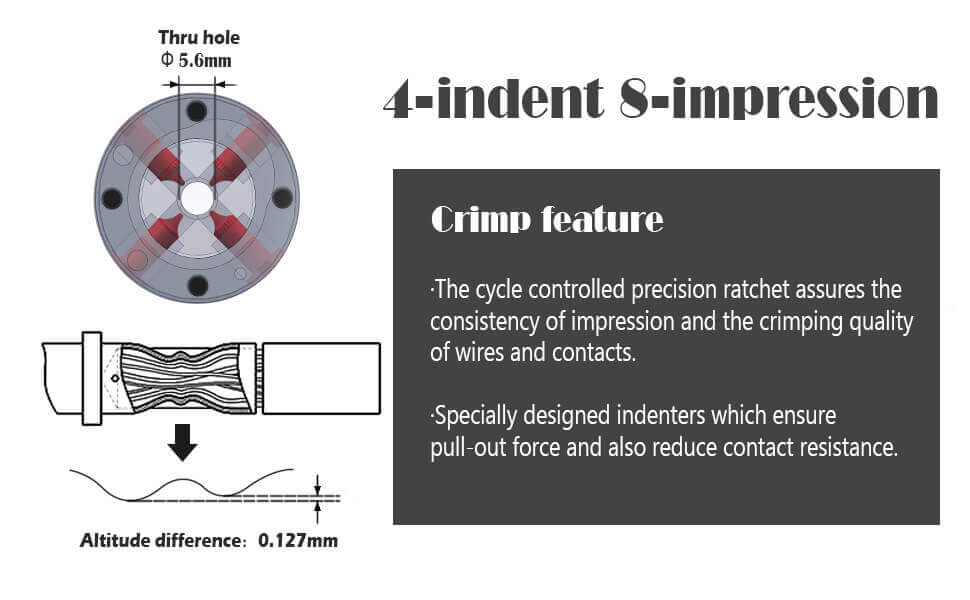 8 Selector Numbers
Selector No. (mm²/AWG) Intender Working Diameter mm/INCH
3.0/12# 0.049/1.24 (GO) --0.054/1.37 (NO GO)
2.5/14# 0.045/1.14 (GO) --0.050/1.27 (NO GO)
2.0 0.041/1.04 (GO) --0.046/1.17 (NO GO)
1.5 0.037/0.94 (GO) --0.042/1.07 (NO GO)
1.0/16# 0.033/0.838 (GO) --0.0385/0.978 (NO GO)
0.75/18# 0.030/0.76 (GO) --0.035/0.89 (NO GO)
0.50/20# 0.026/0.66 (GO) --0.031/0.79 (NO GO)
0.35/22# 0.022/0.56 (GO) --0.027/0.69 (NO GO)

CRIMPING INSTRUCTIONS

1. Insert the contact and prepare the wire through the indenter from the opposite side
2. Squeeze the handles together until ratchet releases. Then the handle will return to its open position automatically